Our villa
Our clinic reflects the common demand for modern, professional and individual treatment of mental illness.
Our staff and patients spend their time together in a calm and homely ambience, which stands out from other clinics not only because of its architecture.
One of the characteristics of the MHI is our attention to detail, which is responsible for the atmosphere in this special place.
The MHI Berlin is a place of recovery and self-development. This villa creates the elementary space for us to provide sustainable and effective treatment and support for our patients.
Key data
Built at the beginning of the 20th century

Stylish and inviting interior

More than 500 m² premises

More than 2000 m² garden area

Quietly located in the villa district of Westend
The diversity of the premises
The reception
Our reception serves as a waiting room and offers our patients additional seating for breaks between therapy sessions.
The saloon
Our salon is a lounge for our patients, which allows them to relax together, but also alone in peace. It offers the necessary space for private moments. Moreover, our library allows our patients to promote themselves interlectually.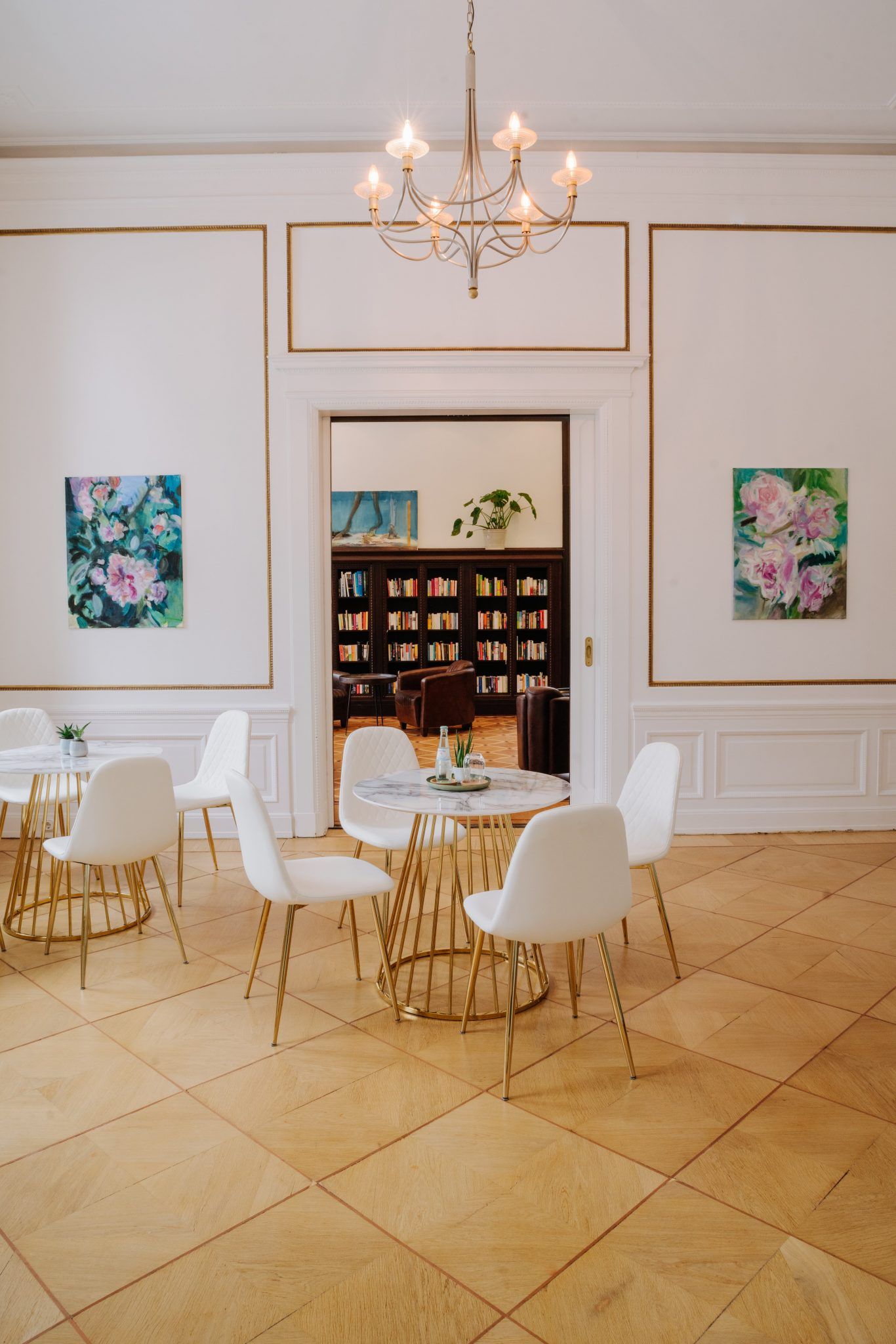 The tea room
Between the dining room and the salon is the tea room. A room for communication and exchange. This is another place for our patients to get to know each other and prepare for upcoming therapy sessions.
The dining room
Our dining room is spacious and offers patients the opportunity to eat together and exchange ideas. It is also used for presentations.
The Studio
The Art Studio is a space for creativity. Art projects as well as group therapies are offered here. The studio contributes to the self-development of our patients and enables them to express their situation, their feelings as well as experiences non verbally.
The gym
The MHI has a fully equipped fitness and sports room. This is used for our sports and physiotherapies and allows our patients to stay or get moving.
The art as an accompanying feature
The artist Eva Räder
We thank Mrs. Eva Räder for the cooperation.
Since then, our villa has been additionally characterized by the artworks of this artist. The atmosphere of our premises, enriched by her paintings, creates the space for our holistic and interdisciplinary treatment concept.
Visit her website and let yourself be inspired: www.evaraederstudio.org
The Westend and its special features
Our clinic is located in the Platanenallee in Berlin Westend. A quiet and green neighborhood.
Our patients also benefit from our location, as the Grunewald and Teufelsberg are in the immediate vicinity. Furthermore, the clinic is located not far from the western center of the city. The Kurfürstendamm as well as the Lietzensee can be reached quickly.
In addition, the Olympic Stadium with all its green spaces is nearby and offers further opportunities for physical activity.